Saoirse Ronan Will Play Mary Queen of Scots
Going a little further back in time than <em>Atonement</em>.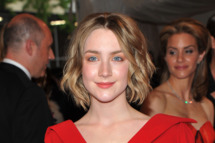 Newly 18-year-old Saoirse Ronan has signed on for Mary Queen of Scots, looking a little further back than the warring twentieth century she broke out in with Atonement and is dipping back to for Testament of Youth. Written by Michael Hirst (The Tudors, both Elizabeth films), the film will star Ronan as the 1500s ruler who became queen at age 1. Intriguing.