Scorsese's Sinatra Picks Up Hunger Games Screenwriter Billy Ray
Now all they have to do is find actors for every major role.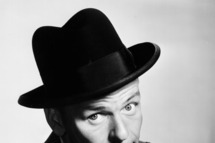 We're still a long way from seeing Martin Scorsese's film about the life of crooner Frank Sinatra (no one has been cast), but Universal has set screenwriter Billy Ray (The Hunger Games) to pen the script. According to Deadline, the Hunger Games screenwriter (and director of the 2003 journalism thriller Shattered Glass) replaces Field of Dreams director Phil Alden Robinson, who had previously been attached to the project.