Seth MacFarlane, Frank Ocean Set for SNL
Joseph Gordon-Levitt will be back, too.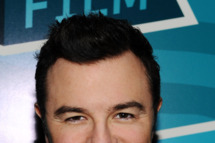 Seth MacFarlane will host the season premiere of SNL, along with — confirmed — musical guest Frank Ocean. Blargh, we were sure it was going to be Gabby Douglas, and now we feel utterly robbed. The show also announced that Joseph Gordon-Levitt will host again September 22 (with Mumford & Sons), and Daniel Craig will host October 6 (with Muse). Well, if SNL was ever going to do any masturbated-dog material, this is the perfect opportunity.