Steve Carell Joins Will Ferrell in Swear to God
Justin Theroux will direct.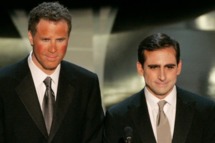 A year ago, Will Ferrell joined Swear to God, with Adam McKay set to direct. Now there's been a bit of a shuffle: Justin Theroux, who wrote Tropic Thunder and Iron Man 2 and acted in many things you've seen, will rewrite the script and direct for the first time since his 2007 debut Dedication. Ferrell's Anchorman co-star, one Steve Carell, is newly tapped to co-star in the buddy film about "a narcissistic hedge fund manager who thinks he has seen God."