Tim Roth to Wed Nicole Kidman's Grace of Monaco
He'll play Prince Rainier III.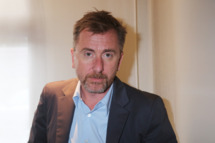 Tim Roth has been cast as Prince Rainier III to Nicole Kidman's Grace Kelly in Grace of Monaco from French director Olivier Dahan (La Vie en Rose, My Own Love Song). Rainier began his rule of Monaco in his mid-twenties, eventually marrying Oscar winner Kelly. The film details Kelly in her sixth year as princess, and Frank Langella is in talks to play the priest and adviser who sets up the regal pair.