Tobey Maguire Will Star in Z for Zachariah
A postapocalyptic film from the director of <em>Compliance</em>.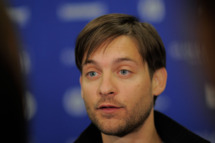 There's a good chance anyone who sees Compliance, or even hears about Compliance, is going to have their eye on director Craig Zobel's follow-up. Now that Z for Zachariah has Tobey Maguire tapped to star, hot off his turn in The Great Gatsby, double the chances of eyeballs sticking to the project. The story is a postapocalyptic tale based on Robert C. O'Brien's seventies novel and a 2009 Black List–topping script.