Tonight's Breaking Bad Is When Landry Gets Evil
I mean, Jesse Plemons. But still.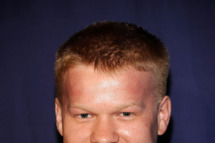 When Jesse Plemon's character Landry Clarke accidentally murdered Tyra's attacker at the start of Friday Night Lights' second season, many fans felt the real victim was show's integrity. Eventually, FNL got back on track, ended its run three years later without clear eyes and full hearts chalking up a single loss, and Jesse Plemons went on to Breaking Bad. The exciting news, at least if you're a fan of Friday Night Lights, Breaking Bad, or actors who look like albino Matt Damon, is that, according to MTV.com, tonight's episode finally features Plemons' character Todd, and whatever he does, it will make season two Landry seem like...well, regular, not-anomaly Landry from the rest of the show. From this point, according to Aaron Paul (Bad's Jesse), "Todd may or may not complicate things a bit. It just gets so dark this season. I don't even know what to say." Imaging how this show could get any darker due to Landry's involvement, we don't know what to say, either.