Vivienne Jolie-Pitt Cast in Maleficent
She'll play a young Sleeping Beauty.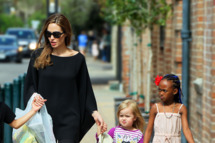 As a young child, Angelina Jolie made her screen debut in father Jon Voight's Lookin' to Get Out, and now Jolie will continue that tradition: Disney announced today that her daughter Vivienne Jolie-Pitt has been cast opposite Mom in Maleficent. (Vivienne will play a briefly glimpsed younger version of Sleeping Beauty — later played by Elle Fanning — while Jolie is the iconic villainess who terrorizes her.) Shiloh's all, "Did it already, got the T-shirt."