Golden Globes to Air Two Days Before Oscar Nominations
That's going to be one crowded awards week.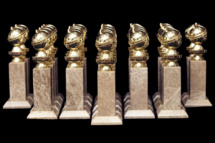 The most recent Golden Globes ceremony aired on January 15, 2012, but that same date has already been claimed in 2013 for the announcement of the Oscar nominations (since that awards-season benchmark will be arriving a little earlier next year). Still, don't expect the Golden Globes to retreat much: The Hollywood Foreign Press Association announced today that the next Globes telecast will air on January 13, 2013, just two days before the Oscar nods come. Make those speeches count, Globes winners.