Hannibal Casts Wonderfalls Star
Once you're in the Bryan Fuller family, you're in.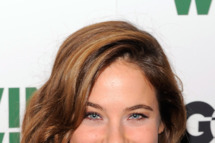 Wonderfalls star Caroline Dhavernas is reteaming with Bryan Fuller for a role on his new series, Hannibal. She'll play the female lead, a psychology professor who wants to protect a bright FBI agent (Hugh Dancy) from the emotional strain of tracking down serial killers. As far as Wonderfalls alumni go, Dhavernas is lovely and all, but call us when you cast Lee Pace.