Channing Tatum Wants to Direct Magic Mike 2 ... But Not Yet
He hopes to make another movie first.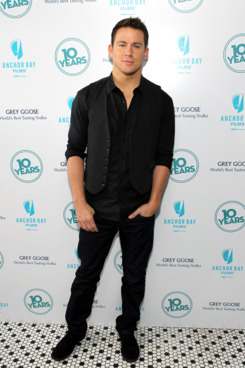 When we caught up with Channing Tatum yesterday at a brunch hosted by Grey Goose to celebrate his new high school reunion movie 10 Years, the in-demand actor told us that he's still got a couple more movies to shoot, but that he'd then like to direct his first film with producing partner Reid Carolin. Might that be the recently rumored Magic Mike 2? "We've thought about directing Magic Mike 2, and we're still thinking about it, and we want to do that," Tatum admitted. "We want to do the sequel. It's too good of a movie, and the characters are so crazy, that we want to go for it. We feel like we did the little indie version this last time, and for the next one, we want to up the stakes a little, maybe go even farther."
Tatum says that he's been laying the track for his jaunt behind the camera by studying the arc of actor-turned-director Ben Affleck, while still sponging as much as he can from Steven Soderbergh, who directed the first Magic Mike. "It's weird to think about the movie without Soderbergh, but he's gone. He's definitely retired. He's like in Hawaii right now," laughed Tatum. "I could look at how he uses the camera, how he sets up shots, how he makes his decisions, but at the end of the day, it's really how he sees the world, and we'll never be able to copy Soderbergh. No one can. Even if you tried to copy him, you can't, because it's always going to be a reflection of yourself. It's like love. If you understand love, if you're in love, you'll put your version of love into the movie."
Still, don't expect to see that Magic Mike sequel anytime soon. "Reid and I aren't idiots! We're not going to direct our first movie as a sequel to a Steven Soderbergh movie. That's not smart," said Tatum. "I want to start with something very small ... make a lot of mistakes, make them real early, and then go jump in [on Magic Mike 2]."