The Fifth Resident Evil Actually Did Pretty Well
And&nbsp;<em>The Master </em>booked the strongest exclusive opening ever.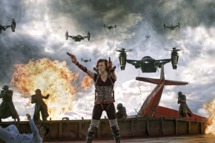 Milla Jovovich's return to the zombie-infested big screen in Resident Evil: Retribution did quite well at this weekend's box office, earning $21.1 million. Not all that far behind, with $17.5 million in ticket sales, was Finding Nemo 3D. Also making headlines is Paul Thomas Anderson's The Master, which grossed almost $730,000 (in just five theaters, mind you) after rave reviews in Venice and Toronto, breaking the record for best exclusive opening.