HBO and Treme Agree on Shortened Final Season
Somewhere around five episodes.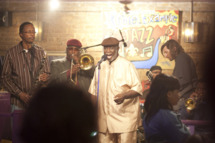 Just before Treme returned Sunday night, it got its order for a fourth and final season. "[HBO] fought very hard to give us half a loaf. We're going to take it and run," Simon said at a premiere event in New Orleans. HitFix clarified with Simon that "half a loaf" tentatively equals four to six episodes, depending on how far the show is able to stretch the lump sum HBO offered for a budget.