Here Are Your Latest Mariah-Nicki Feud Rumors
From the set of <em>Idol</em>.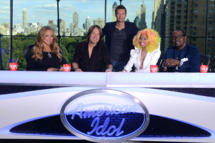 Mariah Carey and Nicki Minaj have been working together a single day, and so naturally TMZ is all over the American Idol Diva Rumble reporting. Apparently, the first day of auditions did not go too smoothly — as in, Mariah kept interrupting Nicki, and then Nicki kept talking over Mariah. ("I need you to simmer, Mimi.") This is likely exaggerated! This is also exactly what Idol producers had in mind.