Jenny Slate Hired to Write Looney Tunes Film
And the word <em>reboot</em>&nbsp;is being thrown around.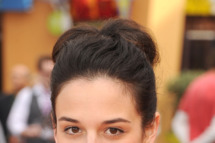 Kermit and Miss Piggy found their modern day comic savior in Jason Segel; now Bugs Bunny and Daffy Duck are looking to former SNL star Jenny Slate for the same treatment. The new live-action/CGI hybrid will be the franchise's first film since 2003's Looney Tunes: Back in Action, but we'll be crossing our fingers for at least a Space Jam quality level. Ditto for a Marcel the Shell cameo.