Kim Kardashian Uses a Kitten to Promote Kanye West's Album
Leave cats out of this, guys.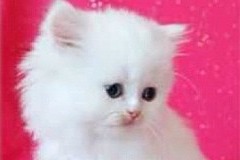 Remember when Kanye West dropped "Theraflu," announcing his grand love for Kim Kardashian? The pair immediately went on a public NYC date-bender, watching The Hunger Games and romping through FAO Schwarz, clearly not encouraging anyone to think about their brands or any new singles at all. Now it's happening again — Kim has a fluffy new kitten she happens to have named Mercy. Related to Kanye's Cruel Summer album coming Tuesday, featuring "Mercy" as a marquee track? Never.