Les Miserables Gets Delayed a Little
They've pushed it to Christmas.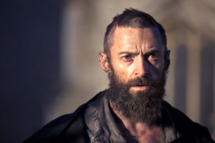 How long must we wait? Eleven days more. Universal has bumped back its big-screen musical Les Miserables to Christmas Day, where it will now face Quentin Tarantino's Django Unchained and the Streisand/Rogen comedy The Guilt Trip, while ceding its former date, December 14, solely to The Hobbit: An Unexpected Journey. Which movie feels more Yuletide to you: the one about slavery, the one about the French revolution, or the one with the famous Jewish movie stars? So many choices!