Blake Lively and Ryan Reynolds Got Married at a House From The Notebook
Because if she's a bird, he's a bird.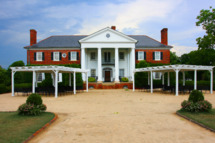 No, it is not the house that Noah builds Allie as a monument to their love, but still: Blake Lively and Ryan Reynolds got married at a house that was used in The Notebook. You may recognize Boone Hall Plantation as the Hamilton family summer home; it is apparently a "working plantation" that can be rented out for weddings. Which brings us to the following questions: (1) How many times have the words If you're bird, I'm a bird been said at the Boone Hall Plantation, (2) was one of those times on Sunday? and (3) did Blake Lively think she was marrying Ryan Gosling instead? Discuss.