NBC Developing Thomas Edison Cop Show
I invented the lightbulb, and you are under arrest!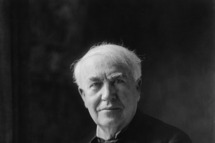 Thomas Edison: Crime Fighter. That's the basic hook of Edison, a new period drama in development at NBC, according to Deadline. The show will focus on a young Edison who "works as a secret consultant to the under-trained and under-equipped New York Police force," because what good is inventing things if you can't use those things to solve crimes? Your move, Tesla enthusiasts.