Guess Which New Girl Character's Parents Jamie Lee Curtis and Rob Reiner Are Going to Play
It's not Schmidt, or Nick, or Winston.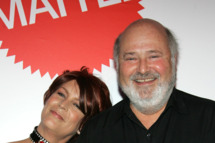 One thing we know we can look forward to in the new season of New Girl (apart from more Schmidt workout tips and more Nick half-assing his entire life) is a little Jess (better known as Zooey Deschanel) family reunion — with lots of Thanksgiving-y home-baked, whimsically decorated goodies. Jess's mom (the New Age yoga teacher? town librarian?) and dad (the too-talkative-about-sex carpenter?) will be played by Jamie Lee Curtis and Rob Reiner, according to TVLine. The pair is divorced, which prompts Jess to launch what is described as a"Parent Trap-style" get-together. This raises a question: Does Jess have an identical (but remarkably straight-laced and adorably freckled) twin?