Nicki Minaj Might Get an E! Reality Show
<em>Keeping Up with the Minajians</em>?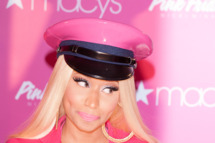 Nicki Minaj got cagey in an interview with Perez Hilton when it came to the topic of a reality show based on her life, but she didn't seem at all against the idea. Now Perez says he's got the scoop that Minaj is indeed doing a series about herself with E!, which would make sense based on the amped-up chumminess she and Ryan Seacrest have presumably experienced through American Idol. Perhaps the Kardashians are getting some company.