Parks and Recreation Scooplet: Guess Who Is Getting a Twitter Account?
Hint: She's the best TV recapper on the Internet.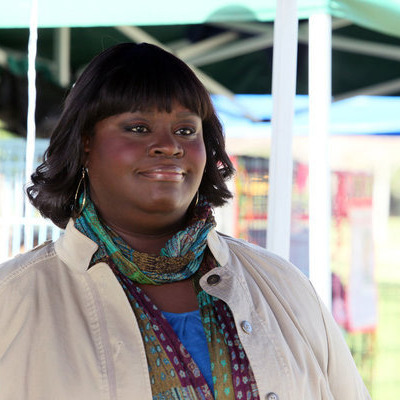 "There's a little bit of art imitating life for my character this season," Parks and Recreation's Retta reveals to Vulture. In case you weren't aware, the comedian, who plays the parks department employee Donna, has become famous on Twitter for telling like it is when it comes to what she's watching on TV. Jezebel has already dubbed her The Best TV Recapper on the Internet, and series boss Mike Schur told us that the writers cooked up a storyline inspired by Retta's very popular real-life ramblings (available at @unfoRETTAble), which are eagle-eyed and merciless when it comes to prime time's dodos. And so, Donna's getting a Twitter account. Several episodes into Parks' new season (premiering September 20), she will sound off about a new (fake) movie 140 characters at a time. Retta says her alter ego has questionable taste. "I've watched the movie [she will be tweeting about]. It's really bad, but Donna loves it," she says, adding that she's pretty excited to come up with the colorful tweets. "The writers are gonna let me do some of my own lines. People who know me will think it's hilarious." Sadly, there are no plans yet for Donna's Twitter account to exist in the real world.
Retta is currently tweet-capping the third season of Buffy the Vampire Slayer (and she's really not a Faith fan). But, like us, she's dying to resume the love-hate relationship she has with her favorite punching bag and NBC sibling Smash. "I'm pretty excited," she says. "Jennifer Hudson's gonna be on and I wanna see if there will be some diva action between her and Megan Hilty. I didn't like Ivy so much all cracked out. 'Uhhh, settle down.' But when she was just a bitch? That's my favorite. I love to hate people."