It Took Six Days for Snooki's Baby to Score a People Magazine Cover
Hi, Lorenzo Dominic. This is a little awkward.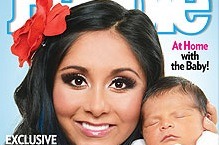 Happy Wednesday. We're celebrating a pretty special milestone today, as Snooki's not-even-a-week-old baby, Lorenzo Dominic, is taking his first step toward tabloid stardom thanks to People magazine. "It's a different kind of love that I never felt before," Snooki says. To those who'll never experience both: Motherhood and reality TV fame are entirely separate sensations of love.