Sony's Hotel Transylvania, Looper Dominate the Box Office
And campus comedy <em>Pitch Perfect </em>surprises.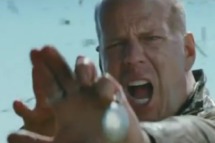 Sony may not be flying quite as high as its Hollywood rivals on Wall Street, but its studio executives finally have a reason to gloat. Two of its titles led the weekend box office: Hotel Transylvania ($43 million), and Joseph Gordon-Levitt/Bruce Willis sci-fi thriller Looper ($21.5 million), which actually did even better in its opening weekend in China. The big surprise of the weekend, according to Deadline, was Universal's campus chorus comedy Pitch Perfect ($5.2 million), which was written by 30 Rock and New Girl veteran Kay Cannon. Meanwhile, The Perks of Being a Wallflower ($1.4 million) could make it into the top ten if it just puts itself out there a little more.