The Star Trek Sequel Gets a Title
It's rather dark ...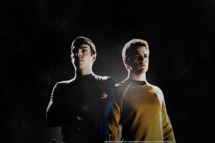 J.J. Abrams's Star Trek sequel is not only going to be populated with Star Trek characters and take place within the Star Trek universe, it's going to feature some actual "Star Trekking." At least that's what's implied by the film's just-confirmed title, Star Trek Into Darkness. No word yet on what exactly Star Trekking is. You'll probably have to Star Trek into the theater to find out.