Tom Hardy Is Doug Liman's Mountain Man
The <em>Dark Knight Rises</em> actor will star in <em>Everest</em>.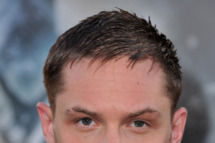 Deadline is reporting that Tom Hardy is in talks to star in Everest, a mountain-climbing film to be directed by Doug Liman (Mr. and Mrs. Smith). The Dark Knight Rises actor will play George Mallory, who made three separate attempts to scale Mt. Everest, though he was torn between pursuing his death-defying career and returning to the family who wanted him home (a dilemma Hardy knows all too well). Just don't hide his face behind too many high-altitude scarves, movie.