The 2012 MTV VMA Winners: Your Complete List
Drake, Rihanna, Nicki Minaj all got Moonmen.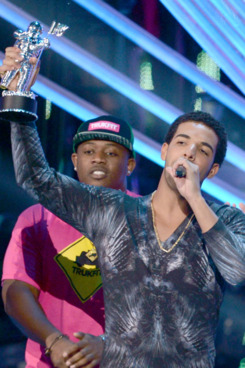 Thursday marked MTV's annual celebration of institutions (other than Twilight) that trend toward the music- and video-oriented. Taking home shiny Moonmen statues were British newcomers One Direction, a bunch of pop mainstays, and that beast the award circuit can't quite shake, Chris Brown. Vulture's full roundup will be here soon [update: is here] — for now, we've got your complete winners list.
Video of the Year: Rihanna, "We Found Love"
Best New Artist: One Direction
Best Female Video: Nicki Minaj, "Starships"
Best Male Video: Chris Brown, "Turn Up The Music"
Video With a Message: Demi Lovato, "Skyscraper"
Best Hip-Hop Video: Drake feat. Lil Wayne, "HYFR"
Best Rock Video: Coldplay, "Paradise"
Best Pop Video: One Direction, "What Makes You Beautiful"
Best Electronic Dance Music Video: Calvin Harris, "Feel So Close"
Most Share-Worthy Video: One Direction, "What Makes You Beautiful"