The Voice Riled Simon Cowell Exactly As Planned
He's "pissed off" about NBC going head-to-head with <em>X Factor</em>'s premiere.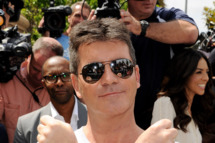 The Voice's X Factor-baiting move to extend its premiere to three nights — directly in the face of X's Britney Spears–featuring premiere — didn't slip under Simon Cowell's acerbic radar. "I am pissed off about it," he told reporters on Thursday. "I think it's mean-spirited and I hope and I pray that it backfires on [The Voice] because this is one of the best shows we've ever made." Simon, dude. It'll all work out. They've invented this thing called DVR.