Sex-Crazed Seniors and Political Warfare: A Visit to the Parks and Rec Set
There's a chlamydia outbreak in Pawnee, y'all.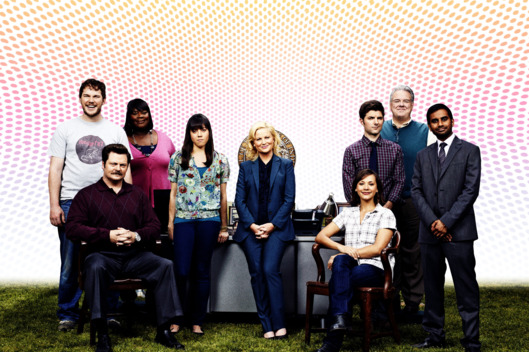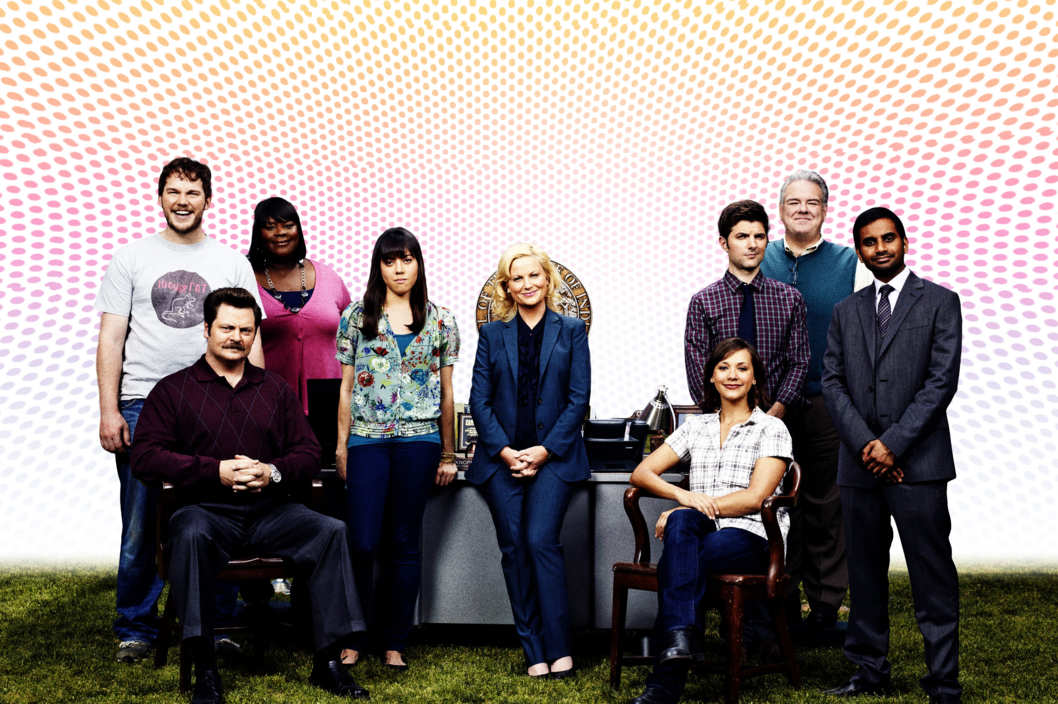 PARKS AND RECREATION SET, ELYSIAN MASONIC TEMPLE, LOS ANGELES, WEDNESDAY, AUG. 29 – "Does anyone know what we risk when we have unprotected sex?" Amy Poehler, as new city councilman Leslie Knope, asks a few dozen assembled senior citizens. They pipe up immediately: "Heart attack." "Broken hip." "Falling in love." After a couple of takes getting through the list (there are more replies from the crowd), Chris Pratt, Retta, and Rashida Jones can't help themselves and begin to laugh. So does Poehler. "I could listen to you guys do that on a loop for the whole day," she tells the geriatric cast. She's in the midst of shooting season five's fourth episode, which finds an outbreak of chlamydia among Pawnee's senior citizens, and Leslie is trying to curb it with sex education. Back in character, she begins demonstrating how to put a condom on a banana when a senior named Marvin raises his hand. "That's all fine and good, but what if the banana is soft and mushy … " The episode's writer, Alan Yang, cracks up quietly while watching the monitors. Moments later the lesson is interrupted by the town's morality watchdogs, who show up to remind everyone about Pawnee's "Abstinence Only" Sex Education Law.
The botched operation is just one of several initiatives that Leslie will have trouble enforcing in Parks and Recreation's fifth season. In tonight's premiere (9:30, NBC), she and Andy visit Ben, now a congressional spin doctor, and April, who decided to go as his intern, in Washington, D.C., where Leslie also has plans to personally apply for funds to clean up a river in Pawnee and quickly discovers her needs aren't exactly a priority. "She realizes what a country mouse she is, what a small fry in terms of big-time politics," says Poehler. "D.C. can make people feel that way." In the second episode, she'll attempt to pass a tax on soda to help stave off obesity in kids (an unlikely gamble in Sweetums-proud Pawnee) and in the episode shooting today, "Sex Education," it looks like she'll be thwarted again in her plea to teach contraception to the senior citizens. Poehler says the frustration is palpable. "Leslie's not sure how to do everything as a city councilwoman, her boyfriend's out of town, she's trying to do it all and nothing's really working. She got this dream job that she fought for and now she's wondering if it was the right move."
"Sex Education" is a standalone story, meant as a "straight-up comedy" break from the focus of Leslie's tangled new reality in which she's flip-flopping between her city council and parks department jobs. ("If I had been tweeting while reading that script," Retta says, "I would have written, 'Donna's found the nursing home that she's gonna be in when shit slows down.'") Yang says making this self-contained episode was a deliberate decision. "We wanted to reassure viewers it wasn't going to be a whole new show in season five," he says. Especially since there have been major changes to the show, which at times has been confusing. "It sometimes seems like all the characters have a lot of different jobs now," concedes Yang. In the scene currently being filmed, for example, Ann, Andy, and Donna are there to help Leslie with the seniors, even though Donna and Ann don't technically work for her in her city councilwoman capacity. ("Obviously this is not a parks department situation," Retta says. "But everyone there is always going to be supportive of Leslie no matter what, because she'd always be supportive of us.") And back on the set at the CBS Radford lot, Leslie's city council office has been set up within spitting distance of her parks department office. "Leslie's new office can see directly into her old one, which is kind of funny, and she struggles with that. Even me, Amy, I miss my old office." Seated next to her, Rashida Jones nods and says with a surprisingly authentic wistfulness, "I miss your old office too. So many good times there."
And there have been other adjustments, too. Adam Scott hasn't been around because Ben is working in D.C. "We really haven't done any scenes together at all so far," Poehler says. But the lovebirds do Skype, and as Poehler describes those scenes, she and Jones veer off into a tangent about what would improve the Skype and Facetime experience. (Jones suggests that the programs come with a lighting kit so everyone looks better and Poehler thinks a black and white filter would also be good. "Things would look very serious," Poehler says. "Like if you went, 'Amy, I have to tell you something,' and then switched on the black and white option!")
But before the two actresses can file a patent for these ideas and become tech billionaires, they must get into a more contentious head space, as they are about to film a blow-up between besties Leslie and Ann."This is a rare sighting," says Poehler. "You're seeing Leslie and Ann fighting. It does not happen. [They're] the second love story on the show." In the scene, Ann is dressed in a cowgirl outfit with braids, the byproduct of dating a cowboy, and Leslie calls her out for losing herself in yet another relationship. "Ann's sort of the full-blown version of what she has been for the past couple of seasons," Jones says. "She's having a little bit of an identity crisis and it incites some big questions that she's needed to ask herself for a long time about how she approaches relationships." Poehler nods and laughs. "There's some crazy stuff coming out of Ann this season." (Good news for those who have felt the habitual straight woman hasn't had enough to do to distinguish her character.) "Like, good crazy funny stuff. And it's not just her. Everyone's lost their bearings."
Chris hasn't exactly bounced back from having been dumped by Jerry's daughter and rejected by Ann. Turns out his fling with Jennifer Barkley (Kathryn Hanh) didn't stick either, and the loneliness is about to catch up with him. "He has a lot of existential angst," Lowe says, "which always made me laugh. That right underneath that unrelenting exuberance is just a bit of despair. This is the year he's going to try and fill that pit with something different than just exercise and positivity. Nobody can keep Chris Traeger down. Not even Chris Traeger." Then there's Andy, who will hit some bumps on his way to the police academy. "It was terrible," Pratt says of shooting the episode two scene in which Andy will try to train for a two-mile run. Compounding the problem was Pratt's new diet; the actor's trying to gain a lot of weight for a movie he'll be shooting later this year. "It was like Mars hot. At one point I take off my clothes and lay down on the track and I am breathing really heavy and I just breathed in all this track dust and rubbed it in my eyes," he says. "It was just not a good day."
But back to the task at hand, which is to have fun with these seniors. "We have been trying to break an episode about safe sex for a while and we kept trying to do it with teenagers but never really found an angle," Yang says. Not until, that is, they found inspiration in something real. "I forget who brought it into the writers room, but there was some actual newspaper article about outbreaks of STDs in senior centers. We didn't make it up." Now at the mic, Leslie is half-heartedly driving home a new no-sex message from a pamphlet titled, "So You Think You Know More Than God." Andy butts in. "Really, just don't have sex. Just don't do it. It's gross."