Vulture's Fall Movie Grid: Does December Boast the Best Picture Winner?
Featuring movies that star Jamie Foxx, Anne Hathaway, and Ian McKellen.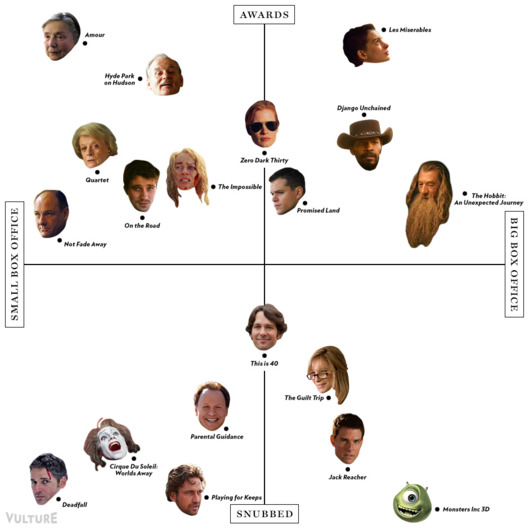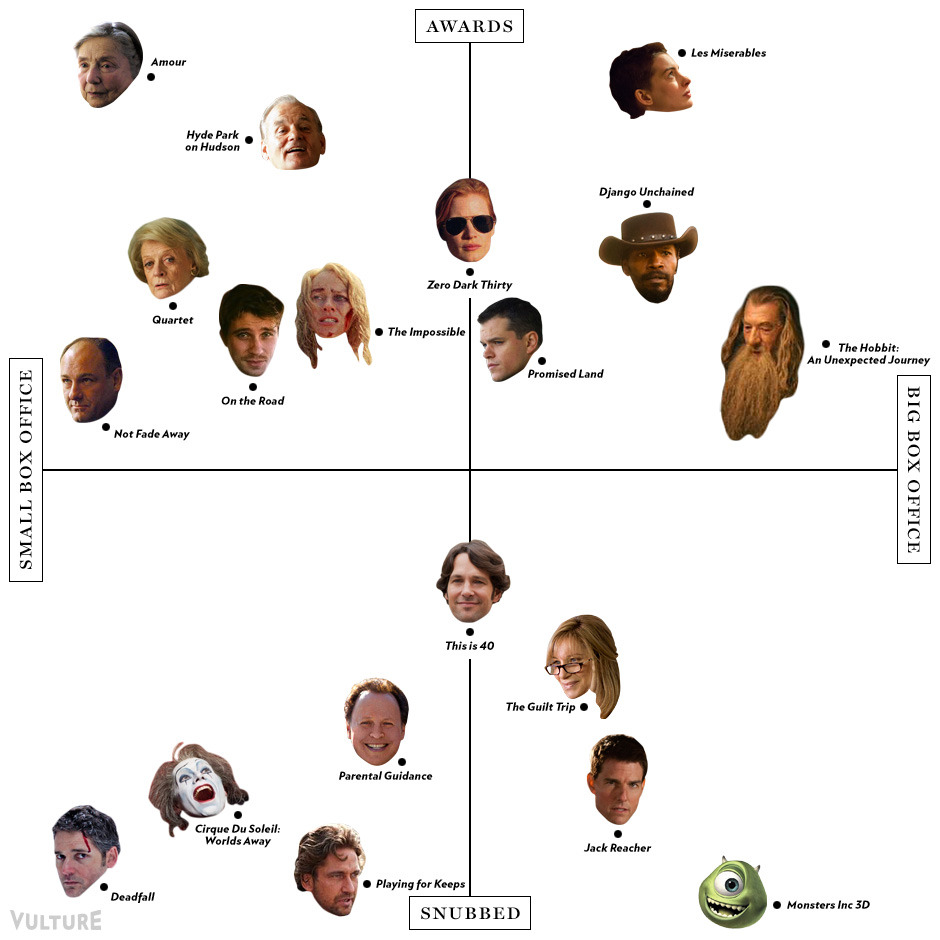 Now that summer movie superheroics have subsided, it's time for a very different season. Which movies look like awards stalwarts, which films might be box office gold, and which might be both (or neither)? Vulture's gone through the release schedule and plotted the films out month by month on a handy fall preview grid, so you can check out all the potential over- and under-performers at a glance. We've already looked at September, October and November. Today we'll investigate the final month of the year, where we've got movies with Jamie Foxx, Anne Hathaway, and Ian McKellen.

Click on the graphic above to enlarge, and then we'll tackle the month quadrant by quadrant.
Finally, in December, we've got a month dominated by awards season hopefuls … but as always, we'll start in the lower-left quadrant with the movies least likely to haul in trophies or box office dollars. Trailing the pack is the Eric Bana/Olivia Wilde siblings-on-the-lam thriller Deadfall, which will settle in for a limited release, and while Cirque Du Soleil: Worlds Away will pull in 3-D bucks, doesn't Cirque hold much more appeal as a live show? The Gerard Butler soccer-stud comedy Playing For Keeps is this month's sole rom-com, but that genre hasn't been spitting out high returns for a while now. Likely to do a bit better is Parental Guidance, which casts Billy Crystal and Better Midler as grandparents trying to keep the kids in line. It's Crystal's first live-action starring role since 2002's Analyze That.

Let's do things a little differently and continue over to the lower-right quadrant, where there are a few mainstream movies projected to pull in more coin at the box office. Straddling the fence is Judd Apatow's This is 40, which Universal is marketing as a semi-sequel to Knocked Up with Paul Rudd and Leslie Mann, though it's unlikely to near Knocked Up's overachieving $148 million gross. Potentially better situated is mom-and-son comedy The Guilt Trip, with stars Barbra Streisand and Seth Rogen tugging on two distinctly different demos in a way that should satisfy all those "What movie can we all see together?" holiday dilemmas. Things haven't been going so well for Tom Cruise lately, but his new action film Jack Reacher will at least play out the holiday season unencumbered by direct competition, while Monsters Inc 3D will continue adding to Pixar's coffers as long as audiences haven't tired of the re-release gimmick.

And now, let's hop back to the upper-left quadrant, where a bunch of potential Oscar entries will attempt to break out. We're still waiting on a trailer for Not Fade Away, a period rock band drama that reunites director David Chase with his Sopranos star James Gandolfini (albeit in a supporting role). Quartet, a Dustin Hoffman–directed comedy about retired opera singers caught in romantic intrigue, could cap off a great year for star Maggie Smith, who's already had two big hits in The Exotic Marigold Hotel and the continually surging TV drama Downton Abbey. Don't expect Garrett Hedlund and Kristen Stewart to make Twilight bucks with their adaptation of the beat generation classic On the Road, though it will bring in nice critical notices. Gaining buzz is the Naomi Watts/Ewan McGregor tsunami disaster movie The Impossible, which could sneak into the Best Actress and Best Picture races, though Hyde Park on Hudson and Amour have the current edge. The former, a dramedy casting Bill Murray as FDR, had expectations tempered in its Telluride debut, but that sort of casting is still going to be catnip to awards voters. As for the latter, this austere and sad Michael Haneke drama about an old man caring for his increasingly senile wife is likely to be a Best Foreign Film whopper, and we have a sneaking suspicion it could end up in the Best Picture and Best Director derbies as well.

And now let's finish things off in the upper-right corner. The month's most intriguing entry may be Zero Dark Thirty, Kathryn Bigelow's fact-based account of the mission to hunt Osama bin Laden. Oscar pundits have taken a wait-and-see approach with this one, despite the fact that Bigelow's last movie, The Hurt Locker, brought in Best Picture and Best Director Oscars; for that alone, it deserves to be taken seriously as a top contender. Some watchers are already predicting a Best Picture nomination for Gus Van Sant's Promised Land (which casts Matt Damon as a salesman trying to make inroads in a small town) simply because Focus Features pulled off a high-profile party crash of the Oscar season by bumping this Damon co-scripted drama to December. Expect Quentin Tarantino's slave western Django Unchained to attract plenty of awards buzz for central performances by Jamie Foxx, Christoph Waltz, Leonardo DiCaprio, and Kerry Washington, but will it make like Tarantino's Inglourious Basterds and score a Best Picture nod? A surer bet is Les Miserables, since director Tom Hooper won the category in his last go-round with The King's Speech, and the movie musical has a powerhouse cast topped by Hugh Jackman, Russell Crowe, and Anne Hathaway. And then there's The Hobbit: An Unexpected Journey. The last time director Peter Jackson ventured into Middle-earth, he won Best Picture with The Lord of the Rings: Return of the King. However, with The Hobbit now elongated into its own big-screen trilogy, we think Oscar voters are more inclined this time to let the movie's sure-to-be-boffo box office speak for itself.
+ Show Photo Credits
Amour - Courtesy of Sony Pictures Classics
Hyde Park on Hudson - Courtesy of Focus Features
Quartet - Courtesy of The Weinstein Company
On the Road - Courtesy of IFC Films
Not Fade Away - Courtesy of Paramount Vantage
The Impossible - Courtesy of Summit Entertainment
Zero Dark Thirty - Courtesy of Columbia Pictures
Promised Land - Courtesy of Focus Features
Django Unchained - Courtesy of The Weinstein Company
Les Miserables - Courtesy of Universal Pictures
The Hobbit: An Unexpected Journey - Courtesy of Warner Bros. Pictures
Deadfall - Courtesy of Magnolia Pictures
Cirque Du Soleil: Worlds Away - Courtesy of Paramount Pictures
Parental Guidance - Photo by Kerry Hayes
Playing for Keeps - Courtesy of FilmDistrict
This is 40 - Courtesy of Universal Pictures
The Guilt Trip - Courtesy of Paramount Pictures
Jack Reacher - Courtesy of Paramount Pictures
Monsters Inc 3D - Courtesy of Walt Disney Pictures