The Time Aaron Paul Went to a Radiohead Concert With Pierce Brosnan
But then he was prohibited from dancing.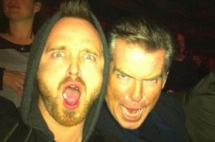 "Watching Radiohead in london with James Bond himself!! Love you Pierce. Yeah bitch!! Yeah Science!! #bestbandever," Breaking Bad's Aaron Paul excellently shared on Monday. The fun soured quickly, though, with Paul finding he was "NOT aloud to dance at a concert in London. Are you kidding me?!?!? O2 arena I hate you." Question: Was it Brosnan or Paul who, with an evening off from filming Nick Hornby's A Long Way Down, suggested they buddy up for a Radiohead show?