Aaron Paul Would Join the Dark Tower Movie in a Second
As reformed junkie Eddie Dean.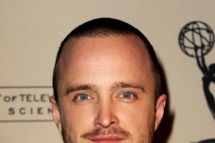 Ron Howard's ambitious adaptation of Stephen King's Dark Tower may never get made at this rate, but Aaron Paul is happy to volunteer for one of the saga's biggest roles in reformed junkie Eddie Dean. A fan suggested the part to Paul on Twitter, and apparently he's thought it through. "Trust me. HUGE dream of mine," he wrote. Lost's Damon Lindelof, once attached to the adaptation, cosigned Paul as "the best Eddie ever." King has called Breaking Bad "an American classic" — care to weigh in, Uncle Stevie?