ABC Orders Full Seasons of Scandal, Neighbors
The aliens-in-suburbia comedy has improbably survived.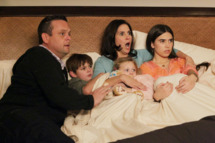 ABC handed out two full-season orders today, extending the Kerry Washington drama Scandal and the aliens-in-suburbia comedy The Neighbors for nine additional episodes. Scandal's been doing pretty well for ABC on Thursdays (and it will help the network to retain another Shonda Rhimes show as her Private Practice approaches its end) while The Neighbors has pulled in okay ratings ... but for now, okay is enough.