Adam Carolla Is Now a Fox News Contributor
He'll visit&nbsp;<i>The O'Reilly Factor</i>&nbsp;weekly.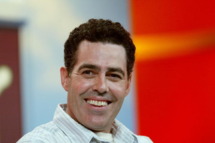 Former Man Show host and current podcast host Adam Carolla has been scooped up by Fox News as an official contributor. While Carolla has appeared on the channel several times, he'll now visit The O'Reilly Factor weekly, as well as other shows occasionally. Carolla's politics are all over the map; he leans conservative and libertarian, but his progressive views on social issues may give him and O'Reilly a few no-fly zones.