Bette Midler Agrees to Appear on Glee
She's still deciding what role she'd want, though.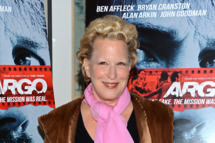 Bette Midler is apparently Glee-bound, according to her and Ryan Murphy's tweets. At last night's God's Love We Deliver Golden Heart Awards ceremony, Ryan Murphy asked Midler from the stage if she'd guest-star, and she accepted — though she's still mulling over her character options. "I have one vote for Rachel's grandmother ... hmmmm," Midler wrote last night. Uh, Bette Midler has to play herself on Glee, because there is absolutely no way that show operates in a world where Bette Midler does not exist. It's not possible.