Let Britney's Scummy Ex Explain the Head-Shaving
Helluva guy, this Sam Lufti.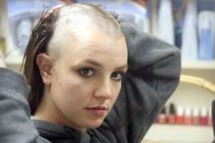 Britney Spears's former manager/boyfriend Sam Lufti kicked off his messy trial against Spears's parents by alleging Britney used a number of drugs in the time he knew her, including "probably crystal meth." Now he's offering an explanation for the infamous head-shaving incident, as well: "Britney was involved in a wicked child custody battle. She told me someone had told her that they can scientifically test her hair for a history of drug use so she shaved it off." Ugh.