Broadway's Memphis Becoming a Film
One you can see in movie theaters.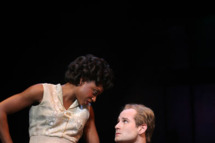 Tony-winning production Memphis is getting the big screen treatment like so many Broadway-harvested musicals before it. Telling the story of an interracial couple navigating the deeply segregated Memphis of the fifties, the film will come through Warner Brothers' Alcon Entertainment and be written by Joe DiPetro, who penned the original's book in addition to co-writing the lyrics. Begin discussing whether this will desecrate the musical or be another Chicago situation.