[UPDATE] Community Won't Air Early In Canada After All
That thing about it starting in November? Not actually the case.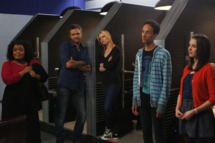 Community still does not have an official premiere date here in the United States, but it looks like Canada will be getting new episodes starting November 9. First they get socialized medicine, now they get Community? Why do you get everything, Canada? Unfortunately, there is absolutely no way whatsoever for Americans to view these episodes at all, because there's no such thing as the Internet. Update: Noooo! Now CityTV's site says "no date has been set yet for the return of Community." Ugh, the whole world is made of garbage and fake-outs.