David Cross Is a Married Man
To actress Amber Tamblyn.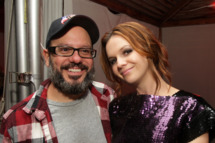 Tobias Fünke's real-world personage is off the market, folks. David Cross, 48, and 29-year-old actress Amber Tamblyn (The Sisterhood of the Traveling Pants, 127 Hours) married on Saturday. People reports that Yo La Tengo performed and Questlove D.J.'d, which are both cool things to have occur at one's wedding. It's the first marriage for each of them.