Hilary Mantel Wins Her Second Booker
For <em>Bring Up the Bodies</em>.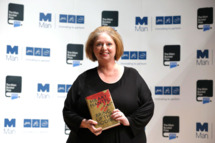 Downton Abbey's Dan Stevens (and the rest of the selection committee) awarded the 2012 Man Booker prize to Bring Up the Bodies, the sequel to the Booker-winning Wolf Hall. Mantel is the first British writer to win two Bookers, but listen, this isn't over — there's still a third book to come. How do they say "threepeat" in the U.K.?