Homeland Gets Picked Up for a Third Season
Saul and Carrie: can't stop, won't stop.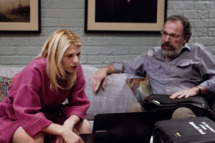 Showtime has ordered a third season of Homeland. You didn't need to be a CIA agent to have predicted this attack of good news, as Homeland is killing it both critically and commercially. This comes after the show's record-tying six Emmy wins and 60 percent ratings increase from last season's premiere to this season's. Also, last night's episode was the series' most watched, with 1.75 million viewers. With an additional twelve episodes, we'll have more chances for one of our predicted Brody story lines to come to fruition. Let's hope they're big Tommy Boy fans.