James Franco's Going to Teach at USC Film School
Because that's what James Franco does.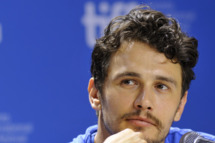 In between his new spoken-word Motown band (and his new spoken-word Motown band's less Motown side project), being a movie star, and directing William Faulkner adaptations, James Franco will somehow find time to teach a course on film production at USC film school next spring. The class will be "co-taught" by Franco's business partner Vince Jolivette and will demand that each student direct a short film. At minimum, the students will learn how to work with someone who seemingly has a fetish for buying hoodies at private-university bookstores.