Jodie Foster Signs on to Direct Financial Thriller Money Monster
It's called <em>Money Monster</em>. No beaver puppets will be involved.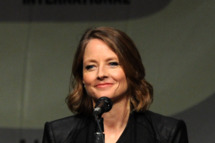 Never one to rush into a project, Jodie Foster has found her next feature to direct. Money Monster tells the story of the host of a TV investing show who hits it big with his insider-trading-based tips. When one of those tips goes south, a viewer breaks into the studio and holds him hostage on-air. In turn, the ratings soar. There's no word yet if the aforementioned "money monster" will be the name of the fictional TV show or some sort of golem made out of currency.