Miguel Is Writing for Beyoncé
According to Instagram.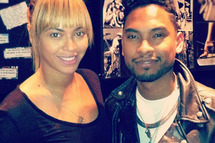 R&B siren alert: drug- and hug-lover Miguel is apparently writing for Beyoncé, according to the picture he Instagrammed last night with the caption "Creating for Virgo's all weekend." This is basically all the information that Miguel shared, and he quickly deleted the photo (do not put pictures of Bey on the Internet without permission), but whatever. This is promising!