The Mindy Project Gets Extra Episodes
A total of 24 for its first season.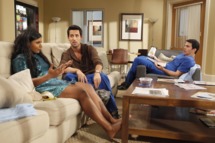 Despite losing viewers from lead-in New Girl, Fox's newest gal-powered comedy, The Mindy Project — from the "new new girl" Mindy Kaling — has inspired enough confidence in studio executives to merit an add-on order of two more episodes, according to The Hollywood Reporter. That brings The Mindy Project's season one episode count to 24.