Peter Berg Wants Mitt Romney to Stop Quoting Friday Night Lights
It turns out clear eyes and full hearts <em>can </em>lose.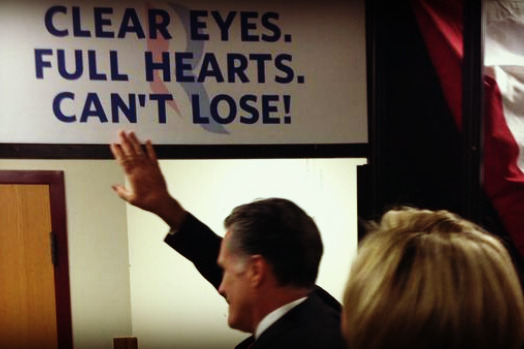 Mitt Romney's been trying to tap into his inner Coach Taylor by adopting the campaign slogan "clear eyes and full hearts — and America can't lose." Friday Night Lights creator and executive producer Peter Berg sure wishes he would stop. "I was not thrilled when I saw that you have plagiarized ['clear eyes, full hearts, can't lose'] to support you campaign," Berg writes in a letter obtained by THR. "Your politics and campaign are clearly not aligned with the themes we portrayed in our series."
The only relevant comparison that I see between your campaign and Friday Night Lightsis in the character of Buddy Garrity — who turned his back on American car manufacturers selling imported cars from Japan.
Berg says that using the Panthers' and Lions' motto "falsely and inappropriately" gives the impression that FNL is somehow affiliated with the campaign, and he asks that Romney stop using it. Let the new catchphrase search begin! "We were on a break"? "Fashion show! Fashion show! Fashion show at lunch!"? "Save the cheerleader, save the world"? "These people love you like crazy and are afraid they're losing you"? "Will you accept this rose"?