It's Not Easy Being Thomas From Downton Abbey
Famous people yell at you.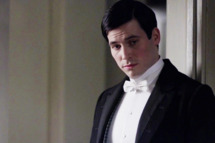 What is it like playing the mostly irredeemable footman on a wildly popular British costume soap opera? Well, famous people yell at you. Here is poor Rob James-Collier, who plays the cruel Thomas on Downton Abbey, describing his first interaction with guest-star Shirley MacLaine: "She got out the car, this Hollywood icon, and she was kind of looking for someone. And everyone was there, the entire cast, and she went, 'It's you!' pointing at me. She came over to me and she's like, 'The evil one! Why are you so evil?'" In her defense, that is a valid question.