Now Alec Baldwin Wants to Do More 30 Rock
But Tina Fey says it's not going to happen.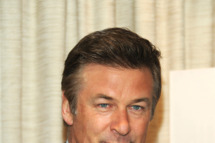 "I offered NBC to cut my pay 20 percent in order to have a full 7th and 8th seasons of 30 Rock," Alec Baldwin tweeted this morning. As Liz Lemon herself might say, "What the what?" Wasn't Baldwin the one insistent on putting a pin in his acting career come 2012? Well, times change: "Now not a day goes by that he doesn't go around to the crew and agitate for a season 8: 'You've gotta change your minds!'" Tina Fey tells EW. "It's like, 'It's not really up to me — and also, no.'"