One Direction Totally Meant to Copy the Clash
"It's kind of on purpose."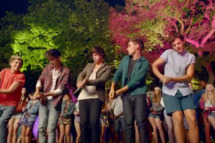 More than a few people noticed that the riff from One Direction's canoe-dancing single, "Live While We're Young," sounds a lot like the riff from the Clash's "Should I Stay or Should I Go." But you were supposed to notice. "It's kind of purpose," lead moppet Harry Styles told the AP of the similarity. Also, at least One Direction knows about the Clash.