Pax and Zahara Jolie-Pitt Will Be in Maleficent, Too
Shiloh was too bored to cameo.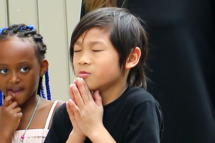 Presumably because all the other Jolie-Pitts threw a shit-fit when Vivienne got to work with Mom, Maleficent has found a way to accommodate two more of Angelina Jolie and Brad Pitt's children. Pax and Zahara have also been cast in the movie; awesomely, Benjamin Button–vet Shiloh was supposed to make an appearance "but was bored and not in the mood" on the day of filming. Child-hero status right there.